Knowledge - Fixation Auto Body
Car Painting
Whenever painting is required for a particular repair, the task of matching your vehicle's current finish can be a little tricky. Your vehicle's paint is constantly exposed to harsh environments and can change over time, especially with regards to the sun's effect on fading. We rely on a computerized matching system that allows us to utilize the vehicle manufacturer's paint code which is given to every vehicle at the time of production.


The paint code is specific to that vehicle's paint and quickly tells the computer exactly what formula is needed to mix the paint. For those times when a vehicles finish has been slightly altered over time, we are able to use base formula the computer produces, and then draw upon our 35 years of experience to adjust and tint the color to a precise match for the existing finish.

We use very high quality refinishing materials and paint and we only operate in a controlled environment for uncompromised results each and every time we paint. The environment we paint in is a climate-controlled and particle filtered spray booth. The booth provides a dust-free and hazard free environment, with full spectrum lighting, in which high temperature air cures the paint quickly and effectively. This process minimizes the risk of contamination and ensures the finish will be strong, durable and precise.

We typically refinish replacement parts off of the vehicle in order to get total coverage and to be sure that the paint ends up only where it is intended to go. We know that an accurate finish is imperative to the end result of a repair. We take every possible measure to ensure that our refinishing is done to perfection.

Car Frame - Auto Body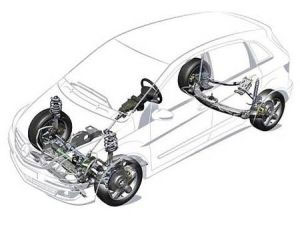 Auto body is the name we give to the portion of an automobile which gives it shape. The body is usually made of sheet steel which is heated and stamped into shape. Depending on the design of the car, the body may also be involved in providing structure and actually bears load when the vehicle is under stress. This is known as the unibody design, and has been in use since the 1930s, introduced by Volkswagen and Nash.

The auto body is really what determines what kind of car it is, though the chassis (or frame) determines much of how it behaves on the road its handling. The body and frame work together to create the car itself. Besides unibody cars, we also have "full-frame" designs, which feature a chassis which traditionally runs from the front bumper to the back bumper.

The frame is truly the heart and soul of your vehicle. Few people realize just how important the frame of a vehicle can be - it is crucial that the frame of a vehicle is perfectly centered to where it was when the vehicle was built at all times. Your frame is the beefiest and sturdiest part of your vehicle.

However, strong as it may be even slight impacts can torque your vehicle's frame. As the epicenter of the vehicle, everything is in some way attached to the frame. If your vehicle is ever struck or strikes something else, the frame will absorb some of the shock, regardless of the speed or angle of the impact. This shock can throw the frame out of alignment. Being that the frame is so strong and beefy, it is not necessarily a simple task to put that frame back into alignment.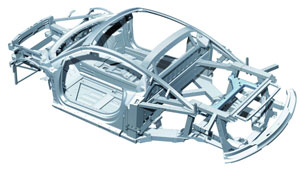 Just as the frame of a vehicle is designed to withstand torque in the event of an accident, it will withstand torque even when initiated by a repair facility. Furthermore, it can be difficult to determine exactly what the alignment should be. Fortunately, highly sophisticated, very precise and very expensive equipment exists that is capable of both measuring and pulling a vehicle's frame back to the same specifications that it was in when it was built.

Full-frame cars are characterized by the car mostly bolting together, while unibody cars are welded. When you need to replace the inner or under fenders of the front end of a unibody car, you have to actually cut the car to get the front end off, which gives rise to the terminology, front clip, whereas on a full-frame car, you can simply unbolt the front end, known as a doghouse.

More significantly however, on a full-frame car the chassis bears most of the load, and is intended to flex a significant amount. On a unibody car, the body bears most of the load, and is intended to be mostly rigid.

Modern unibody cars, which came into vogue in the 1980s, are generally front wheel drive, with a transversely mounted engine sitting on top of the steering rack. The engine is generally held by two or more engine mounts which connect to sections of frame.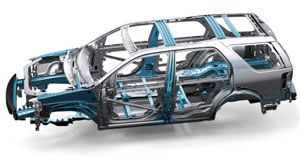 On a full-frame car, this frame sits under the auto body, but in a unibody car, the frame rails are welded into the design. By using front wheel drive, one eliminates the drive shaft and the rear axle or axles, thereby significantly reducing weight.

American and German auto body has generally been made of higher quality, heavier-gauge steel which is milder, whereas Japanese cars are made of recycled steel. This recycled steel is harder, which means you can use less of it to bear the same amount of load, but it also means that it is more likely to buckle when a load is applied in some unintended way, such as being struck with a baseball, a foot, or another car.

Repairing Japanese steel is trickier because steel hardens as you work it (this is known, logically enough, as work hardening) and Japanese steel is already harder than American stuff. In addition, it is thinner, which means it's easier to grind a hole in it, or stretch it (hence making it thinner) in such a way that it cracks or tears.

Most small American cars are now made out of the same recycled steel in order to keep both costs and curb weight down.
1188 Caledonia Road,
Toronto Ontario
(North of Lawrence Ave. W.,
at Orfus Road)
Click here for directions


Computerized Paint
System Matching